Bed and breakfast in Brittany
A refined, elegant stay
for an unforgettable experience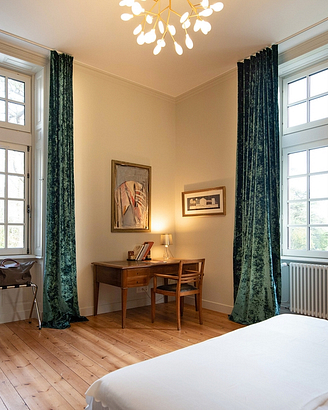 The Manoir de Kerlut Manor invites you to come and experience an unforgettable stay by making the most of our bed and breakfast amenities ! Our bed and breakfast accommodation is composed of 5 spacious rooms, each furnished with an en suite bathroom and available for booking during the entire summer season. Scrupulously designed to achieve the ultimate comfort experience, our large, bright rooms are designed with large windows, offering our guests a stunning view of either the floral garden or the Ria de Ster, depending on the orientation of the room…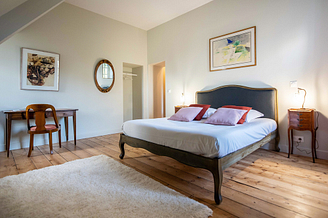 Manoir de Kerlut
Delightful service!
The services we provide at our bed and breakfast include as advertised, a delicious breakfast, included in your booking package. Every morning, start your day off right by heading to our warm and welcoming dining room, where a continental breakfast, comprised of fresh bread, vienoisserie pastries, fresh fruit juice and hot drinks is all set and ready for you, to make sure you start off your day on the right foot. And while you tuck in, why not make the most of our host's knowledge of the area? Our team is devoted to making your stay as enjoyable as possible, and making you feel right at home. Whether you are after some info on the local attractions, restaurant bookings or any other special requests, we are entirely at your service!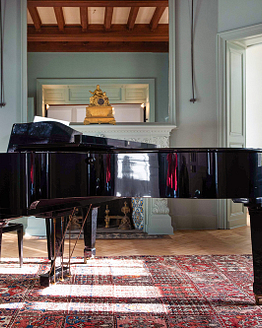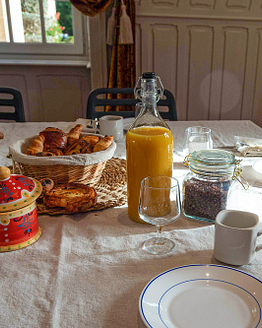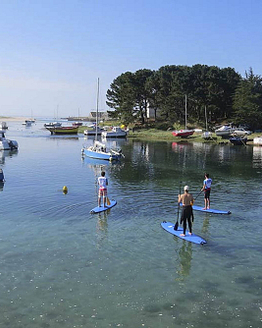 Bed and Breakfast in Southern Brittany
The perfect balance of tranquillity and entertainment…
Enjoy the benefits of a quiet, serene location while also enjoying the amenities and numerous activities of a 5-star campsite. That is the kind of holiday plan we offer here at the Manoir de Kerlut Manor! Ideally located next to our open-air hotel, l'Océan Breton, our guests have access to a large range of leisure amenities, such as swimming pools, sports terrains and playgrounds for children. Entertainment and theme nightsare also organised all through the summer season to ensure our guests are properly entertained. Whether you are looking for a bit of tranquillity or a more lively atmosphere, choose an experience tailor-made to suit your tastes!