A wedding venue in Brittany
No need to worry about driving back!
Come to Plobannalec-Lesconil, a charming commune located in the south of Finistère, where our manor welcomes you with open arms! The ideal spot to organise all of your private stays or professional events, our manor comes equipped with a large living space, a comfortable living room, a furnished kitchen and a lush, green private garden. In order for you and your guests to make the most of your day and night, the manor comes equipped with an on-site sleeping arrangement, with accommodation that can sleep up to 26 people.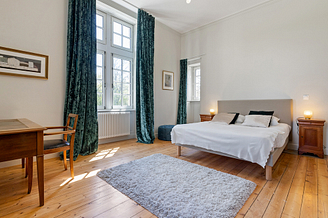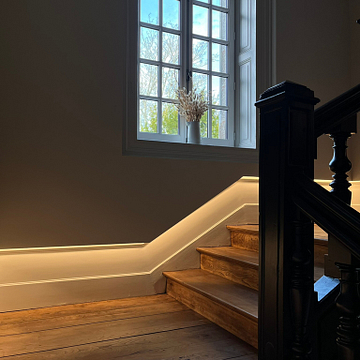 Manoir de Kerlut
Sleeping space for up to 26 people so your guests can enjoy a good night's sleep!
Make the most of our 11 elegant, comfortable bedrooms inside the property just waiting to be enjoyed. These spacious and tastefully-decorated bedrooms offer our sleepers a warm welcome to Finistère. The first ten bedrooms each come fully furnished with an en suite bathroom so that you and your guests can enjoy a bit of peace and quiet… and privacy! The 11th bedroom meanwhile is designed as adormitory composed of 5 beds and a bathroom. All of these bedrooms come with high-quality bed linen and a free Wi-Fi connection.
Are you looking to rent one of our bedrooms without privatising the whole of the manor? Come and enjoy the benefits of our bed and breakfast service!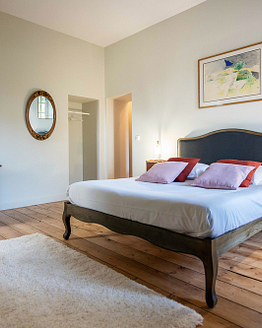 A manor in Brittany located near a campsite
Rent out a cottage at our 5-star Yelloh Village campsite l'Océan Breton!
Our manor is located in the heart of the prestigious campsite l'Océan Breton, meaning you can make the most of the various different accommodation rentals found in the heart of this open air hotel to house and sleep your guests. These modern and fully-furnished rentals are divided into quarters and can sleep up to 6 people each. Why not make the most of your stay by trying a unique experience? We also have a wide range of unique accommodation options, such as our cabin on stilts with a view of the inlet! And of course, if camping is more your style, we also have plenty of tent, caravan and motor home pitches for you, all located in the heart of this green patch of heaven…
Rent our manor in Brittany
We are here to help!
Share your project idea with us! Our team are here for you to help you organise your event and give you all the details you need about our accommodation options!